For creators, publishers and start ups
A mobile app to accelerate your community
The next decade will be dominated by Community-Led organizations. Community drives sales, reduces churn, increases brand affinity, and creates new levels of engagement. But the real challenge to control the user relationship and own 100% of data. On the smartphone community often happens in social media apps.
tchop™ is the first turnkey solution that empowers creators, publishers and start ups to extend their portfolio with their own apps in record time. Our platform lets you create a community around your content, that combines editorial control with social media features like comments, likes and a chat.
Drive loyalty and growth with mobile apps in your own look & feel, where you control content, distribution, rights and roles. Our platform perfectly integrates with the content you have and the tools you're using.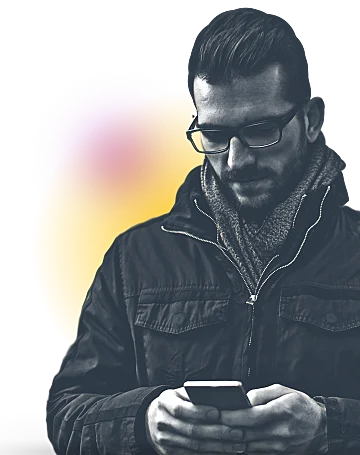 Your own mobile app
tchop™ lets you create a space on the smartphone of your most trusted users where they can find relevant content, latest news and a way to directly connect with your team or others within the community. We provide you with a technical full service, so that you can focus on your audience, content and communication.
You benefit from a premium user experience, app specific features like push notifications and a real time chat to engage with users in real time. We offer rich editorial and social media functionality out of the box, enabling you to launch a content and community driven app within days.
Combine content and community easily
Manage your content from a simple user and mobile friendly dashoard

Integrate existing content and news feeds with a few clicks

Separate free and paid content through powerful multi channels

Engage users with rich media, forum like threads or chat groups
Integrate existing feeds and sources
As our platform is built around the idea of curation, tchop seamlessly integrates with existing systems. Your team can continue working with the existing tools without evening touching the tchop dashboard in their daily routine. Or editors can use our CMS to easily curate content on top or add app specific features like push notifications.
tchop™

offers many standard integrations
RSS feeds
Scraping of new links from a website (including your own)
Social Media content from twitter, facebook or instagram
Newsletters
Podcasts
Youtube videos
You can structure your app with mixes and channels and create relevant feeds for each audience you want to serve - all within the same app. Through our built-in user management you can control who can contribute, comment or chat anytime. And of course you can also connect this to your own SSO.
Editorial meets Social Media
tchop™ provides lots of features, that turn your content offering into a thriving community that enables meaningful conversations with or within your community of readers, members and subscribers. Combine the power of a social network with the unique content and context of an editorial product in a flexible, dynamic way. The good thing: you always have full control about rights, roles and rules.
Public and private chat groups

Confidential 1:1 chats

User generated community content

Forum like threads
Your tchop™ app makes it easy to moderate and grow your community through smart management features and permission schemes. Editors can get in touch with users on the same platform. Benefit form growth hacks the big social apps are using. With every chat message or like on a comment users get a push notification from your app - like on WhatsApp! A mobile community experience that strengthens your brand!
Flexibility at its core
Our platform's functionality has been built in line with industry best practice and design guidelines. However, it is possible to extend or replace every screen to produce something more bespoke. Here are some examples of custom requirements that we have already implemented and which are easy to use for you:
Custom UI elements and UX features

Custom fonts and styles

Native Ads via Google SDKs (Admob or DFP) or other ad providers

Connect to a custom SSO (to manage user access)

Third party SDK integrations for pushes or tracking
You can implement these custom features on your own on the basis of our code. Or we can handle that for you in separate branches, where you enjoy full freedom. In any case you will benefit from future improvement and technical developments of our core platform.
Test run with real user groups
tchop™ lets you prepare and launch a test run within days in order to test it with real users - before you commit yourself to anything. Thanks to the set of standard integrations you can import news feeds, formats like podcasts, videos or also curated content with a few clicks. We take care of all the hard technical parts for you.
We are happy to help and consultant with the right content and marketing strategy, contributing with our ten years experience from many news and mobile app projects. Thanks to our analytics dashboard you can find out what engages your users and what kind of information they seek in real time. You can monetize the app in multiple ways: ads, memberships, paid content - all the options are in place!
Summary
tchop™ is the first turnkey solution to provide a mobile community experience to your readers, followers or members. Real native apps that combine social media functionalities with quality content that let you efficiently grow and engage your most trusted users. With its flexible content structure tchop is perfect to cover the needs of creators, authors, niche publishers and brands alike.
The fact that tchop™ perfectly integrates with your existing tools and systems and that it allows for smart, lean workflows, makes it perfect for small teams. You can make it work with almost no additional workload. We provide a full service and deploy your apps where you need them, so that you can focus on the key topics: your content and your community!