Content the easy way
tchop™ lets you connect any source or platform within seconds
Imagine a place on your smartphone for all your content, all the news, all the information that matters. You can connect existing communication channels and content formats with our platform and curate meaningful context with a high degree of smart automation. Create content workflows that match your product, that help you to grow your audience.
And if there is something missing: on top of your Input API it's easy to customize inputs and feeds for you within days. Create one mobile place that you truly own and where your users find everything!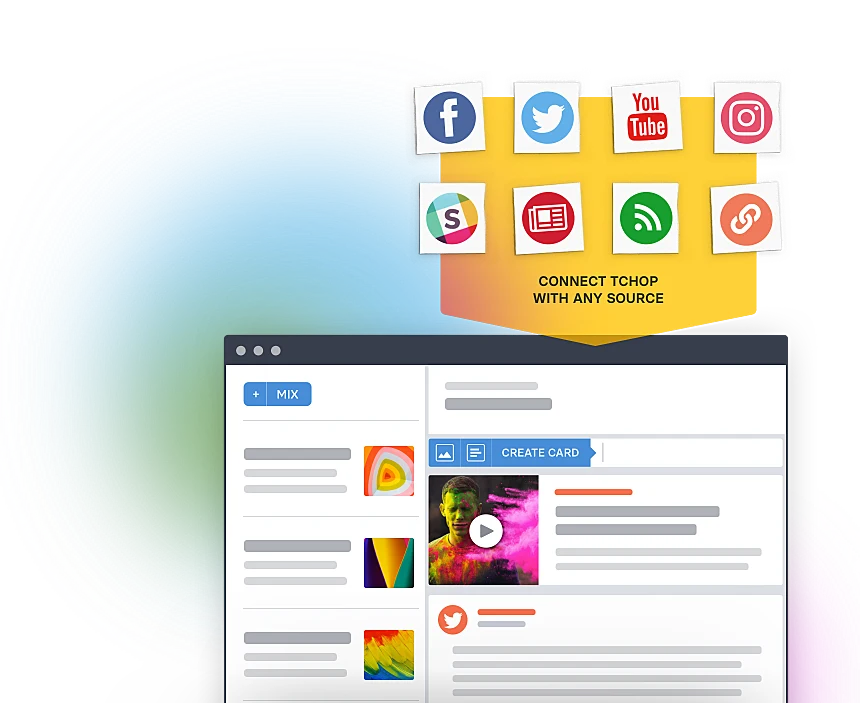 Your content curation powerhouse
How integrations work
Integrations can automatically pull content from other sources and systems. They can flexibly connect to mixes inside your channel, so that you gather all the important content in one place. They can feed in images, videos, news or social feeds from any source or kind. You can automatically publish content and create fully automated workflows. Or you can collect, structure, approve or edit content before you distribute them.
Use integrations to tie content workflows and systems together and have the full control inside
tchop™
. Start with our custom integrations right away or develop your own using our Input API.
Integrate everything.
Get started with our standard integrations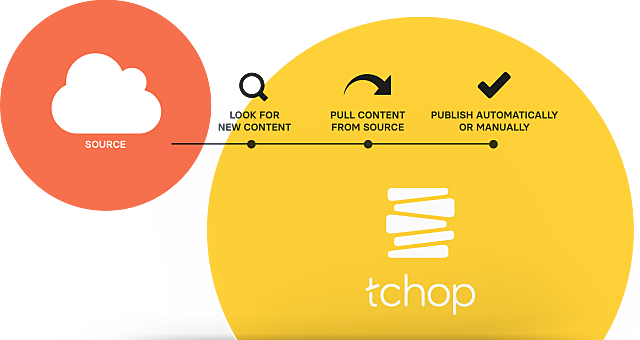 We offer a growing selection of integrations that you can start working with right away. They cover a lot of ground:
RSS The possibilities to combine RSS feeds with a smart structure of mixes are almost endless and enable you to set up the ultimate content curation machine. Import data of any RSS feed to dedicated mixes. Structure, curate, collect, comment then publish with one click. Easy peasy.

Slack Make Slack and tchop the perfect team with this integration: connect tchop™ with your favorite Slack channels and have any article, social media post or image forwarded right into a mix. Discuss content on Slack. Publish, curate and distribute with a few clicks through tchop™.

Scraping You want to import and follow new articles from a specific site?! Or even from your own resource without dealing with a serverside API? Then we have the perfect solution for you: Grab relevant links from any website and push them right into any mix inside your channel. Customize the perfect news reader with your preferred structure and set up with a few clicks.

Twitter - Integrate tweets from selected users, define hashtags or search terms and import everything automatically into your tchop™ mixes. Make Twitter work for your content. Automatically publish or just collect, comment and publish the best pieces. It's all up to you.

Facebook - Import posts from your own profile or page(s) and add them automatically into your tchop mixes. Automatically publish or just collect and comment the most relevant posts. All in one place.

Instagram - No doubt Instagram is the leading photo community. So why not present your creative output also to users of your own app? Import your instagram posts and add them automatically into your tchop™ mixes. Automatically publish, comment or curate stunning photos or videos.

Youtube - Video is becoming an increasingly important. Therefore, popular video-sharing websites like YouTube are a powerful tool that offer a lot of interesting content. With our Youtube integration you can implement new videos posted in any youtube channel into selected tchop™ mixes. And never again miss important clips.

Newsletter - Convert any newsletter content into cards on the fly. Integrate email services like MailChimp or others. Feel free to contact us for set up.

Podcasts - Embed podcasts into any mix and don't miss any new episode. Simply use the Apple podcast feed to add fresh content automatically.

Top News - Follow the national and international headlines of the most relevant publishers with this incredible integration. Based on News API you can choose between thousands of different sources from all around the world. Get latest news or most read articles. Live in any tchop™ mix. Don't miss what is important.

Discord - Connect tchop™ with your most important discord channels and automatically push links, posts and images to a dedicated mix inside your app. Add content and context to the discussion and pick key topics to stand out in a curated news feed.

Discourse - Connect tchop™ with your discourse based forum in order to integrate discussions and user opinions into your own app. Synchronize topics, comments and replies and make the app the perfect extension for your website.
Develop simple custom integrations
Build your own integration

You can develop your own integration on the basis of our API and use tchop™ as a middleware with a high level of automation and almost no manual work in the system. We can implement custom solutions for you or you can do that yourself.
Check out our API documentation here.